Living Out a Dream
Every once in a while you'll speak with someone in regards to a topic so near and dear to their heart that you can't help but feel the overwhelming sense of pride they take in the topic at hand.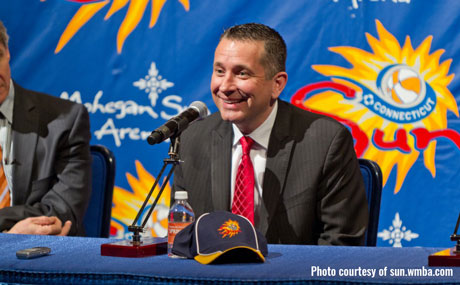 That was the clear take away from my talk with Connecticut Sun General Manager and Head Coach, Curt Miller.
For Miller, the road to the WNBA didn't happen overnight. Having spent a decade in
the collegiate ranks as an assistant coach, spread out among stops at Cleveland State ('91-94), Syracuse ('94-98), and Colorado State ('98-01), Miller was able to land his first D1 head coaching gig at Bowling Green.
It was at Bowling Green where Miller accumulated a 258-92 record with five NCAA Tournament trips to his name, including a run to the Sweet 16 in '06-07.
After spending two seasons at the helm for the Indiana Hoosiers, and a year out in Los Angeles as an assistant for the LA Sparks, the opportunity to become a WNBA Head Coach arose in 2016 on the other side of the country in Connecticut.
Embracing The Professional Grind
"I'm a morning person," Miller said of himself. Morning person has a nice ring to it; get up early, enjoy a cup of coffee, maybe watch the sun slowly rise over the horizon and greet the day while you enjoy a hearty breakfast. It's a nice low key way to get started.
But for Curt Miler, he holds a different definition to what the phrase means.
"I'm typically up no later than 5 AM," Miller said. "I spend the morning hours from 5-
9 [AM] in preparation for practice. It includes more film watching on up-coming opponents, it could be watching practice film or of our previous game. A chunk of that is dedicated to writing-up a potential practice plan."
The morning has just begun.
From there, Miller meets with his staff, adjusts his practice plan, and then practice rolls around. Practices vary; depending on the point of the season some might be a little more light than the other.
"It's common that you're playing four games in seven nights," Miller said of the WNBA schedule. "Your opponents are spread from coast-to-coast and the travel is very difficult."
Something Miller notes that draws a connection to the NBA is load management and understanding the wear-and-tear placed on players. For Miller and his staff, this is handled through practices as opposed to games.
"You have to choose wisely what a practice looks like," Miller admits.
This was the distinct factor Miller pointed to when discussing the differences between his days coaching in college compared to the pros. The duration and intensity of practices in the WNBA is "crazy different" compared to what most players experience while in college.
As if the grind of being a WNBA Head Coach isn't tough enough, Curt Miller also wears another hat for the organization, that of the General Manager.
The balance of being both the Coach and the GM is a curious one.
"The competitive coach in you wants to win now," Miller said of the ways his two titles conflict at times. "When you put the GM hat on, you have to look at totality and you've got to plan for the future."
"Wearing both hats, that's the conflict is that you're wired to always win now, but the GM has to have a long-range plan and think about the future. At times, those conflict."
The thing that Miller finds most tricky to navigate is quite obvious.
"When you start to incorporate a relationship that involves money, and now you're negotiating contracts with them [the players], that GM/Player relationship is different," Miller said of comparing the relationship with players in both of his roles.
"Some players say it's the business side of pro sports with a hard salary cap, where you don't have a luxury tax and the ability to go over. There are some very difficult discussions with players when money is involved."
It Takes a Village
One thing that isn't lost upon Miller is the importance of having a stable of basketball minds around him that he can lean on for advice and decision making. Despite holding two important roles within the organization, Miller knows there's more to the success of the team than just what he does.
Someone who Miller points to as playing a major role within the front office is
Connecticut Sun COO, Amber Cox. Cox has spent time all around sports, and one of her major basketball roles came with the Phoenix Mercury, where she spent 9 years and ultimately held two roles simultaneously herself, that of President and Chief Marketing Officer.
"She is someone I can bounce off of a lot of ideas including player personnel," Miller said of Cox. "It's great to have someone with experience in the league and a championship pedigree that I can bounce things off of."
Miller also points to one of his assistant coaches, Brandi Poole.
"She was with me all 11 years at Bowling Green and my two years at Indiana University," Miller says of his relationship with Poole. "We're starting our 16th season [together], so there's a lot of trust and understanding."
"Chris Koclanes, my other assistant, is a brilliant young mind," Miller said. "I lean on him almost as the Assistant GM. He is clearly one of the premier young X's & O's coaches but is also someone that I can bounce player personnel decisions by. He's a guy in his early 30's who I feel, by tomorrow, could run his own WNBA franchise. He could run his own collegiate program. He's talented beyond his years."
It even extends beyond the Sun for Miller who spent one year with the LA Sparks as an assistant before joining the Sun organization. How important was this quick stop in Los Angeles? Miller was quick to tell me.
"I would be out of the league," Miller admits. "There is no way, as confident as I am, the game is different. The management of players is different. At times, I'm still wired like a college coach. I learned so much under Coach [Brian] Agler. Having that year under my belt allowed me to have the knowledge and comfort that I can do it at this level."
Having such a strong support system in place, this allows Miller to establish his philosophy of "build from the locker room out," and stresses the importance of establishing culture. Coach notes that when culture is established, it becomes something that doesn't have to be coached.
Preparing For The Unknown
In 2020, the world as we know it has changed drastically due to the Covid-19 pandemic. This has reached the world of sport, and the WNBA became the first major professional league to hold their draft while teams were quarantined.
For Miller, this was a unique experience to prepare for.
"It was a very unique situation," Miller said with a slight laugh. "I commend the
WNBA leadership and ESPN. Many thought we were the guinea pigs for the virtual draft for professional leagues, but I thought we were the trailblazers."
"My biggest anxiety was a technology failure," Miller said of draft night. "That was my biggest worry that I wouldn't be able to communicate with not only my own staff who are in separate locations, but other GM's and coaches around the league in case there was any draft day movement."
Even with uncertainty around the technology, draft night came and went without a hitch for Miller and his staff, and it was a night to remember. Not only were circumstances unique, but Miller entrusted long-time confidant, Brandi Poole, to call the teams picks in.
"Watching someone that's been so loyal to you, to give her that opportunity and that position, I was like a proud father," Miller said.
Free of distraction that he otherwise would've had to address, such as the media, Miller was able to operate and go about draft night as he saw fit. This allowed Miller to have a moment with draft picks, Kaila Charles of Maryland and Baylor's Juicy Landrum, he normally wouldn't have.
"I didn't have that media distraction, so I could reach out to Kaila Charles and Juicy Landrum and their families," Miller said. "I could speak with them freely."
Typically, not long after the draft, the WNBA season tips-off. And while that is yet to be decided upon for the 2020 season, I asked Coach who some of the most difficult players to game plan for are should the season carry onward.
"Some of the game-changers are the GOATs of the game," Miller said. "How are you going to guard a Brittney Griner? What's the game plan there? How are you going to guard Sylvia Fowles?"
"You've got that dominant low-post players-a Tina Charles-but then you got the versatile players that can play inside-and-out. The [Elena] Delle Donne's', Breanna Stewart's' and how they can impact the game."
Miller admits that sometimes the approach can differ.
"Sometimes it's to try and minimize it and take them out [of their game]," Miller said. "There are other nights where you may elect to let them go for 40 [points] but shutdown other people."
Along with the names mentioned above, Miller pointed to Dallas Wings star Arike Ogunbowale and the Chicago Sky trio of Courtney Vandersloot, Allie Quigley, and Diamond DeShields as players who present unique challenges.
"The talent in the WNBA is just insane," Miller summarized.
No matter the challenges that are presented be it contract negotiations, practice planning at 5 AM, a global pandemic altering draft day, or preparing for the premier talent in the league, the opportunity isn't lost on Miller.
Since 1991, Curt Miller has cut his teeth and paid his dues to become one of the top coaches in the WNBA today. And you can bet that the moment and appreciation of the craft and journey isn't lost.
Miller said it best.
"It's an honor to be able to grind."